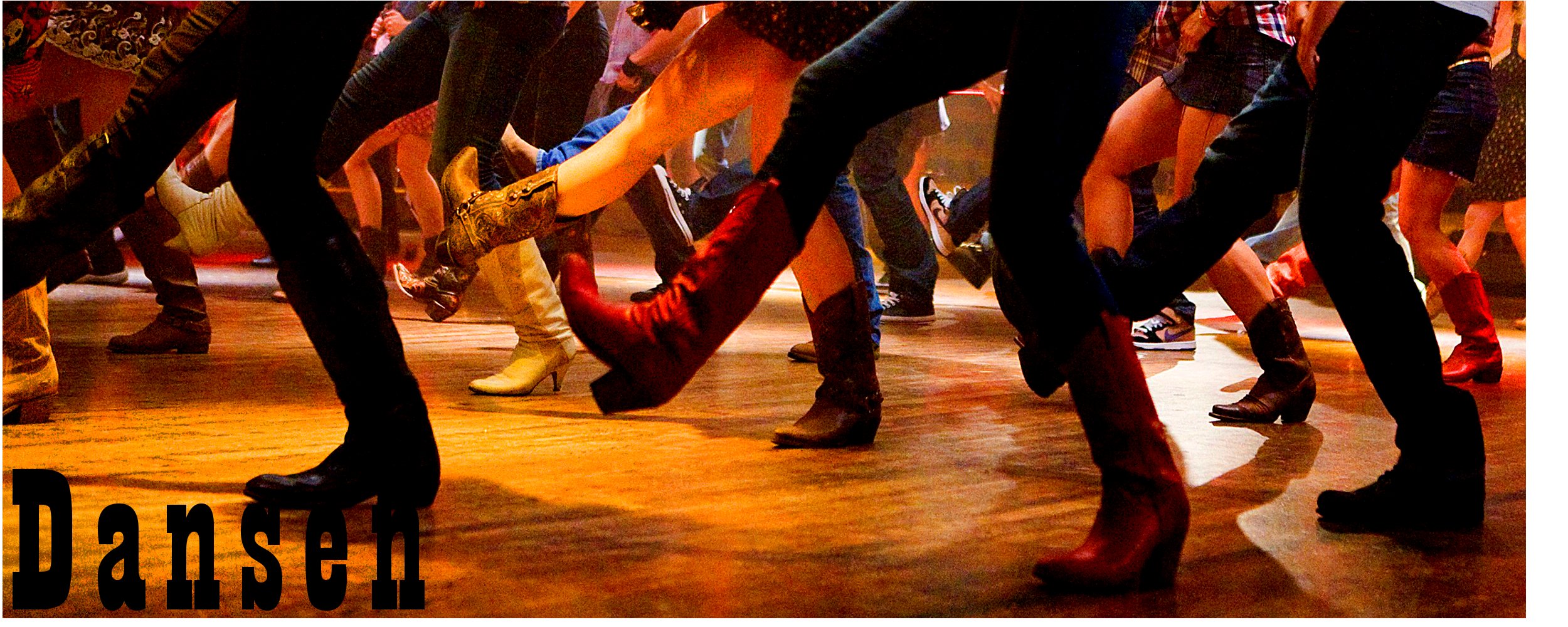 Op deze pagina staan de dansen die we op vrijdag hebben uitgelest. Het schema laat kort zien welke dansen we in het huidige dansseizoen hebben uitgelest of herhaald. Er staan ook filmpjes van de dansen die we in het huidige seizoen hebben gedaan.
Op de computer of Ipad staan de dansen en filmpjes van ronde 1 links en die van ronde 2 rechts. Op de smartphone komt eerst ronde 1 en dan ronde 2 (onderaan).
Helemaal onderop staan de danslijsten van voorgaande seizoenen. De filmpjes hiervan zijn te vinden op YouTube. Type daar de naam van de dans met daarachter het woord 'linedance'. Je krijgt zo allerlei filmpjes te zien van die dans.
---
Dansseizoen 2020-2021

Ronde 1 (non-country)

Datum van uitlessen

Naam dans

11 september 2020

Jerusalema
Dansseizoen 2020-2021

Ronde 2 (country mix)

Datum van uitlessen

Naam dans

25 september 2020

Big Girls Boogie

25 september 2020

In Tennessee
---
Dansseizoen 2019-2020

Ronde 1 (non-country)

Datum van uitlessen

Naam dans

14 september 2019

Mad Crazy Love

1 november 2019

Échame La Culpa

10 januari 2020

Take Down

10 januari 2020

Drunken Sailor

14 februari 2020

Keep Young
Dansseizoen 2019-2020

Ronde 2 (country mix)

Datum van uitlessen

Naam dans

7 september 2019

Waves Of Love

14 september 2019

Just A Phase (Herhaling)

4 oktober 2019

With These Eyes

11 oktober 2019

Simply The Best

25 oktober 2019

Good Vibes

8 november 2019

Baby Blue (With Diamonds)

29 november 2019

Secrets We Keep

29 november 2019

Miss Ibiza (Herhaling)

29 november 2019

Pa Olvidarte

10 januari 2020

Faithful Soul

31 januari 2020

Wintergreen

14 februari 2020

Both

28 februari 2020

Blame It On Your Heart
---
Dansseizoen 2018-2019, Ronde 1 (Non-Country)

Datum van uitlessen

Naam dans

21 september 2018

On The Loose

12 oktober 2018

Sambarito

9 november 2018

Soldier

23 november 2018

Veneno

30 november 2018

Music To My Eyes

11 januari 2019

Big Coconuts

8 februari 2019

Ain't Misbehavin'

15 februari 2019

Shake Your Bam Bam

1 maart 2019

Cuban Moon

22 maart 2019

Cha Cha Cola

22 maart 2019

Taking Chances

19 april 2019

Daddy Cool Remix

26 april 2019

Bicycle

10 mei 2019

Hot Potato

10 mei 2019

Wasted NC

24 mei 2019

Gimme That Swing

31 mei 2019

Desert Wind
Dansseizoen 2018-2019, Ronde 2, (Mix)

Datum van uitlessen

Naam dans

28 september 2018

Looking At The Moon

5 oktober 2018

Joey On The Fiddle

12 oktober 2018

Cinderella Rockefella

2 november 2018

I've Been Waiting For You

16 november 2018

Last Living Cowboy

16 november 2018

The Dance

7 december 2018

Take Your Shoes Off

7 december 2018

Homesick Heart

11 januari 2019

Oh Mary Lou

25 januari 2019

Who Needs Mexico

15 februari 2019

Cherry Bomb

22 februari 2019

Our House Of Love (herhaling)

8 maart 2019

Home To You

8 maart 2019

Love You A Million Times (herhaling)

15 maart 2019

Irish Stew

5 april 2019

Blue Cowboy

19 april 2019

Old Flames

3 mei 2019

Colorado Waltz

17 mei 2019

Mom

24 mei 2019

The One You're Waiting On

14 juni 2019

Just A Phase

14 juni 2019

Love Is Loud

14 juni 2019

Ich Bin Wie Du
---
Dansseizoen 2017-2018, Ronde 1 (non-country)

Datum van uitlessen

Naam dans

8 september 2017

Summer Sway

13 oktober 2017

Melodia

17 november 2017

Voy A Bailar

1 december 2017

Su Casanova

12 januari 2018

Hey

19 januari 2018

Love You More

26 januari 2018

Enough Is Enough

2 februari 2018

The Queen

2 februari 2018

Havana Cha

2 maart 2018

No No No

6 april 2018

Arms Open

4 mei 2018

Happiness

11 mei 2018

Sweet Hurt

8 juni 2018

Doing The Walk
Dansseizoen 2017-2018, Ronde 2, (Mix)

Datum van uitlessen

Naam dans

15 september 2017

Eres

29 september 2017

Ah Si!

13 oktober 2017

Open The Clouds

3 november 2017

A Natural Woman

24 november 2017

Everything I Need

1 december 2017

Second One

15 december 2017

Out Of The Rain

19 januari 2018

Down On Your Uppers

26 januari 2018

Perfect

9 februari 2018

Dirt In My Face

16 februari 2018

Shake Your Boogie

2 maart 2018

Champagne Promise

23 maart 2018

Love Remains

6 april 2018

You Are The Reason Baby

4 mei 2018

The Older I Get

15 juni 2018

Like A Fine Wine
---
Dansseizoen 2016-2017, Ronde 1 (non-country)

Datum van uitlessen

Naam dans

2 september 2016

I Say Hey!

9 september 2016

Save The Day

(herhaling)

30 september 2016

So Just Dance Dance Dance

4 november 2016

Found Love

25 november 2016

Solo Amor

20 januari 2017

Say It Again

3 februari 2017

Despacito

10 februari 2017

Take Me To The River

3 maart 2017

Tango de Pasion

17 maart 2017

The Violin

14 april 2017

Run Me Like A River

12 mei 2017

Drunken Dreams

2 juni 2017

Tú Tienes Rázon
Dansseizoen 2016-2017, Ronde 2, (Country-mix)

Datum van uitlessen

Naam dans

2 september 2016

Waltz With A Hero

9 september 2016

Shattered Dreams

14 oktober 2016

The Feeling

21 oktober 2016

It's Halloween!

11 november 2016

Happy Happy Happy

2 december 2016

Red Yellow And Green

2 december 2016

Back To Front

2 december 2016

Big Jimmy

16 december 2016

My Girl

20 januari 2017

Chasing Down A Good Time

3 februari 2017

Cajun Mambo Walk

17 februari 2017

Cowboy For A Night

17 februari 2017

Baila Mi Rumba

3 maart 2017

Spanish Bible

24 maart 2017

The Rose

12 april 2017

The Music Man

5 mei 2017

Funky Sole

26 mei 2017

Nancy Mulligan
---
Dansseizoen 2015-2016



Datum van uitlessen

Ronde

Naam dans

04-09-2015

1+2

Girl Crush (Herhaling)

04-09-2015

1

Kizomba (Herhaling)

18-09-2015

2

Tell Her

02-10-2015

1

Saturday Nights

02-10-2015

2

The Bomp

09-10-2015

1

And Get It On

09-10-2015

2

Ruc's Dreams

23-10-2015

2

Good Bye Eyes

23-10-2015

1

Moonlight Madness (Herhaling)

30-10-2015

1

Extreme Love

06-11-2015

2

Like Coca Cola In Hollywood

20-11-2015

1

Have Fun

20-11-2015

2

Sinatra & Chardonnay

27-11-2015

1

Don't Let The Sun Go Down

04-12-2015

1

We Get One Shot

11-12-2015

2

Up All Night

11-12-2015

2

Home Is Where The Heart Is

18-12-2015

1

Big Night

15-01-2016

1

Stitches

22-01-2016

2

I'm Coming Home

29-01-2016

2

Big Blue Tree

05-02-2016

1

Cliché Love Song

19-02-2016

2

Staying In Love

19-02-2016

1

Nonononono-Notso

18-03-2016

1

Obsesion

18-03-2016

2

Give My Love To Rose

25-03-2016

2

About Feelings

01-04-2016

2

Carinito

08-04-2016

1

It Hurts

15-04-2016

1

Peligrosa

22-04-2016

1

Save The Day

29-04-2016

1

Better When I'm Dancing

29-04-2016

2

Diamond Rings

20-05-2016

2

The Wonder Years

27-05-2016

1

Afraid Of The Dark

03-06-2016

2

Walking On New Grass

10-06-2016

1

Never Nooit Meer
---
Dansseizoen 2014-2015
| | |
| --- | --- |
| Datum van uitlessen | Naam dans |
| 09-01-2015 | Fireball |
| 09-01-2015 | Cecilia |
| 23-01-2015 | Our House Of Love |
| 23-01-2015 | Can't Let Go |
| 30-01-2015 | Must Be Someting |
| 13-02-2015 | Trust Me |
| 13-02-2015 | Flying High |
| 13-02-2015 | Triple Mix |
| 27-02-2015 | Open Book |
| 27-02-2015 (korte herhaling) | Nightshift |
| 06-03-2015 | Her Memory |
| 13-03-2015 | Casa Musica |
| 03-04-2015 | Love And Happiness |
| 10-04-2015 | Blue Crying Eyes |
| 10-04-2015 | A Shoulder To Cry On |
| 17-04-2015 | We Only Live Once |
| 08-05-2015 | Back In Time |
| 15-05-2015 | All My Heart |
| 15-05-2015 | Tell The World |
| 22-05-2015 | Blue Spanish Eyes |
| 29-05-2015 | Love's Highway |
| 05-06-2015 | Como Yo |
| 12-05-2015 | Remember Me |
| 26-06-2015 | Boppin' With The Blues |
| 26-06-2015 | The Fox Went To That Town-Oh |
| 10-07-2015 | Kizomba |
| 10-07-2015 | Besito |
| 17-07-2015 | Girl Crush |
---